Gallery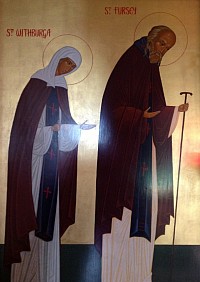 Saints Withburga and Fursey
Saints Withburga and Fursey
As two 'local' saints these have a special place on our ikon screen and in our veneration. They are a strong reminder to us that the saints of Western Europe who lived before the mid-eleventh century are not just 'Western' saints but are saints of the universal Orthodox Church.


St Withburga was an East Anglian saint who lived in a hermitage very close to Walsingham, at Holkham, and who after her father's death in AD 653 used her inherited wealth to build a convent at East Dereham. After her death in AD 743 she was buried in the abbey grounds, and tradition has it that she was disinterred 55 years later and found to have avoided decomposition, so that these remains were removed into the church she had built.

In AD 974 Brithnoth, the abbot of Ely, seeing how pilgrims flocked and brought wealth to Dereham, plotted to steal her mortal remains to make Ely the centre of pilgrims seeking to visit her body. Brithnoth arrived with armed men and organised a feast. Having got the locals thoroughly inebriated he and those with him made for home with the body of Withburga. When the Dereham men sobered up, they discovered the theft and set off to recover her. They were however, unable to cross the swamps that surrounded Ely, and Withburga's relics remained until scattered at the time of the reformation.
When the Dereham men returned home, it is said that they found a spring of water to have developed in what had been her tomb. Taking the view that the water was compensation for the loss of their saint, they kept attracting pilgrims to drink from the water. This spring has allegedly "never run dry" and even today remains a tourist attraction.
St Fursey was an Irish monk, born the grandson of a pagan king (probably in practice a wealthy community leader rather than anything else more grand). His mother was a Christian and daughter of another "king", and he was baptised by Brendan (himself later canonised) who was his great uncle, and in whose monastery he went to live at an early age, in time building his own monastery. In time he had a series of visions before founding two more monasteries.
Meanwhile, here in East Anglia, King Sigeberht set about extending Christianity as the local religion. Fursey arrived with a few others, and after meeting Sigeberht were given enough land to establish an abbey. The land given to him was an abandoned Roman fort, probably in what we now call Burgh castle.
The approach of war in AD 648 encouraged Fursey to leave for the Britanny area of what we now call France, where he died in AD 650.